Among two biggest events in Indian history, 26th January is just about to come. Just a few days and it will be 26th January 2018 which we all, every Indian celebrates as Republic Day. It is a very important day for every Indian, hence we all celebrate this day to a big extent. So, there will be special republic day offers on all top online shopping sites.
On 26th January in 1950, India adopted it's very first constitution, which makes us live in full freedom with rights & do whatever we want to do until it's something which is prohibited by the constitution of India. Here you have a chance to celebrate this day with a great discount on various products at all of the top shopping sites. In this post, you can also find the best republic day offers 2018 which will make it easy to shop at best discount for you.
It is a big day for everyone who is living in India so it is going to be celebrated in the whole country. You can double the happiness on this day and can celebrate the day with amazing discount offers that you are going to see. All the top shopping sites have already announced a sale on this occasion which will be live way before the actual day and will be there till 26th January and some sites will give discount 2-3 days beyond the actual day.
In the Republic Day Sale 2018, you can shop for products from any category from any site and as promised you will be grabbing that at best price ever. The discount will vary as per the products and category, Yet, you will be able to save maximum on your purchase. We will cover top offers for mobiles, televisions, electronics and other clothing products from every top site which has some good offers to get you the best saving and shopping experience.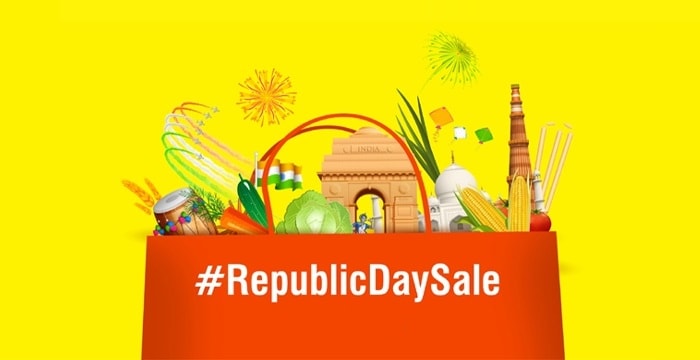 Republic Day Offers 2018 – 20-26th January 2018
Amazon Republic Day Offers 2018 – 21-24th January
For the republic day 2018, amazon has announced a sale which will organize between 21-24th January. Prime members will get some exclusive deals during sale days and the sale will also start a few hours earlier for as an extra privilege. So the sale will be there for 96 hours (4 days) for all of the amazon customers. But as an amazon prime member, you will get access to deals from the sale on 20th January at 12.00 PM.
There will be additional 10% discount on orders placed through HDFC Bank Card or Amazon Pay Balance. You can make use of this offer for extra saving in amazon republic day sale 2018. There will be offers on products from over 10,000 brands including all the top brands to get you every product that you want to purchase at best price.
Click here to get access to all deals
Click here to find all offers from Amazon Great Indian Sale 2018»
Flipkart Republic Day Offers 2018 – 21-23rd January
The republic day sale at flipkart will be live from 21-23rd January. The 72 hours massive deals season on the occasion of republic day will make it cheap for you to shop online for mobiles, televisions, home furnishing products along with various kind of other products. There will be extra 10% discount for Citi Bank Customers so they can enjoy the extra benefits of 10% which can make a big difference in your shopping if you are purchasing something expensive.
All the bestsellers from mobiles, laptops, clothing and other bestselling products will be up on sale with a very cheap price tag o you can shop at the best price. The deals in Flipkart Republic Day sale will make it worthy to enjoy 69th Republic day with double energy.
The sale is focused on mobiles, clothing, TV & Appliances so you can wait and shop at best price under the offer. We will add direct links to sale pages along with best deals from flipkart so keep track of this page in order to purchase the best price deals.
Click here to access all deals
Find all offers from Flipkart Republic Day Sale 2018»
Snapdeal Republic Day Offers 2018 – Snapdeal Unbox Sale – 22-26th January
There will be Unbox India sale at Snapdeal on 26th January. Discount offers will start from 22nd January and will run till 26th January. In the sale, there will be a good discount on most of the products at snapdeal during the sale so don't forget to check them to make sure that you don't miss something really good.
You will also get extra 10% discount if you are an SBI or HDFC Bank customer during the sale. Moreover, HSBC Bank customer will get additional 15% cashback on their orders which is quite good.
Click here for all offers from snapdeal unbox sale»
Big Bazaar Republic Day Sale 2018 – 25-26th January 2018
Big Bazaar will also come with special in-store offers on republic day. The sale will be live on most of the products at big bazaar store. You can visit them and can avail all of the offers there. Big Bazaar has their stores in most of the big cities in India so you can avail there offers if you are living any of the cities where big bazaar stores exist.
Must See:
So, guys, these were the best republic day offers for 26th January 2018, most of the sales will be live even before 26th January and there might be some other sale for the main day so stay updated with us to get the best offers.