Nothing is as fulfilling as shopping. It's always fun to shop but have you ever bought something for half of the price? Trust me you will get overjoyed once you grab something at a good discount. Amazon upcoming sale will start on 16th June 2021 on various products so better get ready with your shopping cart. Additionally, you can also save your bank cards to your Amazon account so you can quickly grab deals.
You just need to be ready on sale day and you will see how much you have saved with your smart shopping decisions. It would require you to plan your shopping as per the sale schedule. Sometimes you will have to postpone your purchase and sometimes you will have to prepare your shopping list early in order to maximize savings.
At Amazon, discounts on grocery and pantry products are given at the start of the month, so it would be excellent if your home grocery list is ready before the month starts. Apart from the direct discount, there's an extra discount if you pay online through a specific bank card. But, there's a catch to it, you need to make sure your cart value surpasses the pre-specified minimum order amount. The best would be to shop for all the monthly needs in a single order from Amazon sale so your cart value is easily above the minimum required.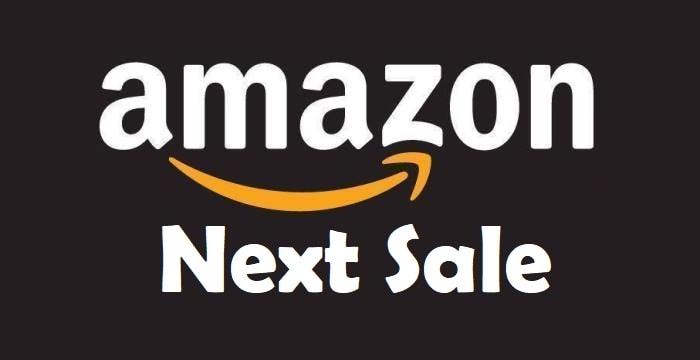 Amazon Upcoming Sale June 2021
| Upcoming Sale | Sale Date | Offers |
| --- | --- | --- |
| Amazon Smartphone Upgrade Sale | 9th to 12th June 2021 | Mobile Phones at 20% off + Extra exchange & bank offers for further savings. |
| Amazon Back to Collage Laptop Deals | 14th to 18th June 2021 | Laptops at Up to 35% Off, Look for extra discount coupons on the product page. |
| Amazon Sale On Electronics & Home Appliances | 15th to 22nd June 2021 | Electronics and home applianced at discount. Grab limited time 35-55% Off. |
| Amazon Great Indian Summer Sale | 26th to 30th June 2021 | One of the proper sitewide Amazon upcoming sale with up to 85% off on specific products. |
| Amazon Super Value Days Sale | 1st to 7th July 2021 | Flat 45% discount + extra 10% cashback on Amazon Pantry. |
| Amazon Prime Day Sale 2021 | 15th to 16th July 2021 | Amazon Prime Day is the biggest sale event for Amazon buyers around the world. It's delayed for India this year, you might need to wait for some days. |
Quick Tip: There are lots of daily lightning deals so you must check those. You can check current deals as well as upcoming Amazon offers for the day – 16th June 2021.
Bestselling products such as groceries, mobile phones, laptops, clothing, electronics & home appliances are up for sale every month. You can get up to 50% off on some products and a reasonable 10-20% off on mobile phones during these small sales. These sales come in handy when you need to buy something urgently. So you can't ignore these upcoming sales for your regular purchases. Just keep your wishlist ready and place the order when you get a good discount.
Amazon Sale Offers & Deals For Maximum Savings in 2021
There are lots of sales at Amazon every year. You need to know which one is giving the best discount. Every year Pre-Diwali sale at Amazon (Called Amazon Great Indian Festival Sale) is the best choice for all the expensive products you want to buy. Also, Amazon Prime Day, a global sale event also comes with the best deals of the year. These two sales should not be missed. Apart from these two, you can good discount on other small category-specific sales and other festive sales. I have covered all the upcoming Amazon festive sales and monthly offers below for the whole year of 2021.
The best deals can be found during Amazon Great Indian Sale or Prime Day Sale.
The best time for grocery shopping is at the start of the month.
Mobiles & Laptops are available at discount almost once every month, you just need to wait a little bit.
Upgrade Your Smartphone in Fab Phone Fest at Amazon in June 2021

Does your most used gadget need an upgrade? Now smartphone has turned into a companion. You always need it by your side. It needs to be efficient, so get a newly upgraded smartphone under budget in Amazon upcoming phones fest June 2021 with up to 35-40% discount and cashback.
Get the latest smartphones from Xiaomi, OnePlus, Samsung, Apple, Realme or any other brand of your choice at the best price. No cost EMI and bank-specific discounts will sweeten the deal further. Don't forget to pair your phone with accidental damage protection and various mobile accessories, those are also available at a discounted price at Amazon sale.
Some of my favorite mobile offers from the sale»
Electrifying Discounts in Amazon's Electronics, Television and Laptop Sales

Get new electronics and home appliances delivered to your home in this special sale. All the big products you are looking for will be available at the best prices in this sale. This is the best sale if you need to buy a television to binge-watch all your favourite show or the upcoming cricket matches. All the top brands of TVs are available. Be it, LG, Sony, Xiaomi, OnePlus, Samsung or Panasonic, you will never run out of choices.

You can upgrade your existing laptop which has been your go-to gadget during work from home days or long online classes. Top laptops from Apple, HP, Dell, Lenovo, Acer & Asus are available on Amazon. You don't need to step out to buy them. Moreover, you have this sale to make sure you are paying very reasonable for the product.
Summer appliances, coolers, air conditioners, refrigerators or home appliances, washing machine, kitchen appliances and accessories are available at a flat 45% discount. You won't be getting better deals than this. Just look for extra prepaid discount and no cost emi offers for extra benefits.
Get Ready With Amazon Fashion Sale For Your Best Looks

Time to upgrade the fashionista inside you. Refine your entire wardrobe in this Amazon's next fashion and clothing exclusive sale. It's going to get much light on your pocket to get all those expensive brands' clothing you always wanted. In this summer sale get all your personal accessories upgraded to the latest fashion trends. Be it new footwear or handbag you always eyed upon. All the fashion products, clothing, watches, sunglasses, backpacks or even sportswear for both men and women, even the top brands such as Puma, Levi's, Adidas, BIBA, Bata, Fastrack are available on Amazon so you are never out of options.
Don't miss the next biggest sale event, Amazon Great Indian Sale 2021

The basic thing is that if it's a Great Indian sale, it's probably better for you to never miss it. Actual it's one of those "Actual sales" we always wait for. All the best discounts, for the year, can be seen in this sale. It is organized around 3 to 4 times every year.
A couple of cashback offers, instant discounts and a large number of deals make it very lucrative. You might end up shopping more if you browse deals properly. But the thumb rule is not to get carried away with discounts and shop what you actually wanted to buy so you actually end up saving.
You can get an extra 10% off via ICICI/SBI or HDFC Cards and no-cost-EMI offers are also there to complement the discount further.
| | |
| --- | --- |
| Mobiles | 35% Off+10% Cashback |
| Electronics | Flat 60% Off |
| Fashion & Clothing | Get 50-60% Off |
| TV & Appliances | Flat 300 |
| SBI/HDFC Cashback Offer | Extra 10% Cashback |
See All Handpicked Deals From Amazon Great Indian Sale 2021»
Get Your Monthly Groceries During Amazon Super Value Days Sale in July 2021

Simply, you can't delay groceries shopping as they are necessities. So you have only one option, be ready with the list and buy them in a few days in advance as per sale. It's best to shop pantry products during Amazon's super value days sale.
The sale is organized every month. It's always 1st to 7th of the month, so no need to look for when it is. You get exciting deals from Amazon in this sale. And on top of it, you will get additional cashback if you are eligible for any user-specific offers. SBI & ICICI customers can delight as they get an extra 10% off during this upcoming sale. It requires you to shop for a minimum of ₹2000 if you want to avail extra 10% Off, which is not a big amount if you are planning for an entire month.
Members Only Amazon Prime Day Sale Coming Up in July 2021 to Make You Feel Special

It's a global sale event by Amazon. This year it's delayed in India so you can expect it in mid-July. Deals are as good as Amazon's Pre-Diwali Great Indian sale but they last longer. Being prime members exclusive, the competition is significantly lesser so you can actually grab all those "Loot Deals".
Apart from deals, you get to binge-watch lots of exclusive web series and movies on PrimeVideo so you are in the zone for the sale. Just be ready, it's finally coming in July 2021, hopefully.
Here's my guide to save maximum in Amazon Prime Day 2021»
Amazon Next Sale Offers & Dates to Looks For
| Upcoming Sale | Dates | Offers |
| --- | --- | --- |
| Amazon Deal Of The Day | 15th June 2021 | Get up to 45% discount on various products. |
| Amazon Summer Appliances Sale | 15th June 2021 | Get Coolers, Air Conditioners & Fan at up to 35% Off. |
| Amazon Super Value Day Sale | 1st to 7th July 2021 | Daily essentials at best price. Shop for the month and also get extra 10% off with you SBI or ICICI card. |
| Amazon Fab Phone Fest | 9th to 12th June 2021 | Stay updated with latest tech, get upto 25% off on latest mobiles. |
| Amazon Laptops Bonanza | 14th to 18th June 2021 | Get into the WFH mode with latest launches from top brands. Avail 25% OFF + 10% Cashback. |
| Amazon Fashion Sale | 16th June 2021 | Branded clothing at very affordable prices. Additional 20% Cashback for specific users. |
| Amazon Great Indian Sale | 26th to 30th June 2021 | Get every single product at discount. Discounts as huge as up to 95% Off are awaited. |
| Amazon Prime Day | 16th July 2021 | Get ready for this prime members exclusive. Feel the privilege of your prime membership with amazing deals. |
| Amazon Dhanteras Sale | 2nd November 2021 | OG Shopping festival to be celebrated at Amazon this year. |
| Amazon Diwali Sale | 1st to 4th November 2021 | Biggest Festive Celebrations with Biggest Discounts. |
| Amazon Christmas Sale | 25th December 2021 | Back to back sales season starts. Be ready with your wishlist. |
| Amazon New Year Sale | 31st December 2021 | New year, new deals. Get up to 55% Off. |
| Amazon Holi Sale | 17th to 21st March 2022 | Holi going to be more colourful with up to 75% Off on Amazon. |
Delight The Avid Reader In You With Amazon Book Bazaar (10th to 14th Every Month)

The perfect marketplace for your book purchases. You get to save money as well as to get them delivered directly to your address. This Amazon upcoming sale on books will be on the 10th of this month. It's a monthly sale so you can order books one by one as you finish reading one. You can also get books from the best publications for your study and preparation for various exams. At Amazon, all top author's books are available, fiction or non-fiction, both. The catalogue contains over 20,000 Books from every language so you're never out of choices.
Amazon Freedom Sale Will Be Back Again This Independence Day Sale
Get up to 70% flat discount on a wide range of product. The sale will be back again this year for the Independence Day celebrations. This will be the last good sale before Diwali festive season's mega sales starts. You probably don't want to miss that extra 10% discount which you get when paying in advance. I'll be updating this with exact sale dates as well as top offers.
Extend Ramzan Celebrations With Special Sale This Eid
After one full month of prayers & fast, celebrate Eid with mouth-watering deals from Amazon. The sale should compliment the existing happiness of Eid festival. The sale starts a few days in advance so your gifts can be delivered on this special occasion.
Experience Enormous Number Of Deals On Biggest Festive Season OF Diwali
I doubt if there's any bigger festive season than Diwali in this world. Main events go on for five days in a row while preparations start a couple of weeks ago with Dussehra. It's obviously a major event for Hindus. In fact, no other festival is celebrated with as much joy as Diwali.
Traditionally, the festive season of Diwali has always been a shopping festival. It starts with Dhanteras sale which is considered a good day to shop for new goods. Amazon's Next Diwali Sale 2021 will be back with up to 80% discount offers.
Click here for all Dhanteras offers 2021»
Click here for all Diwali offers 2021»
Here's All The Info You Need to Stay Ahead In The Sale
Is there any upcoming sale on Amazon?
Yes, you don't have to wait much. If it's mobile, laptop or electronics you want to buy, there are already lots of offers running. A big sale is also coming up real soon. I think the Prime day sale should be there in mid-July.
When does the next Amazon Great Indian Sale start?
The Great Indian Sale should be back in August 2021 during republic day. As always, the sale will start a day earlier for Prime members. For All customers, the sale will start the next day, probably 9th August 2021.
When is Upcoming Amazon Sale on groceries?
Amazon's Pantry special sale returns every month on the 1st and ends on the 7th of the same month. It's called Super value days sale.
What are the dates for 2021's Amazon Prime Day India?
I know every prime member is waiting for it. It should be back this year in July. In other countries, Prime Day is on 21st and 22nd June 2021 but sadly it has been postponed in India this year.
Is there any Big Billion Days Sale On Amazon?
Not really, Big Billion Days Sale is on Flipkart every year. Amazon also comes up with the Amazon Great Indian Festival sale at the same time. Only the name is different, deals are as good as they can be.
The thing you got to remember is that you need to have little patience to actually make the most of Amazon's sales. No one actually knows the exact date until Amazon announces them publicly. All we have expected Amazon upcoming sale dates for 2021. The list updated every week so you can safely rely on it. We have taken the last few year's sales data and analyzed it to make sure that if not dates, at least the month is accurate.