Online Shopping Sales are one of those things which influence us to shop. Whenever there is any sale running, we just can't stop ownself and ends up shopping. Some, of us (like me) only shops when there is any discount running online, which is only possible if there is any sale going on. So, here we have a list of Amazon upcoming sale offers for January including the whole year of 2018 from January to December. The sale calendar starts with amazon sale 2018.
Mostly Amazon names their sales as Amazon Great Indian Festival Sale with a little modification. But, with every sale, you can see some excellent offers which you just can't refuse. They bring a lot of discounts on products from all the categories including their bestselling products. In case, you don't know. there are over 1 Million products available for purchase on Amazon which makes it sure that you can find almost every product that you needs.
Today, on this page we will collect all the Amazon offers and sale which are expected to come. We have also added Amazon Next Sale date as per expectations so you can start making your list for shopping. In Amazon Sales, you can shop for mobile phones, laptops, electronics, clothing, home accessories and all those products which you want to purchase. It means, there are very fewer things left which you can't find on Amazon.
The most exciting thing with Amazon is that it has a lot of products available and all of them are available at a very good price so you can just go and purchase and you will end up saving some good money compared to an offline purchase. Mostly, there are daily lightning deals with some good discounts but on sale days, things changes completely and they bring some good discounted deals at a price you just can't imagine.
If you are also waiting for Amazon upcoming sale then you just can subscribe to us via push notifications and rest we will update you guys once the ale gets live. The post contains all the sale offers for 2018 so you can just simply bookmark this page to be updated on Amazon next sale dates. You can easily expect a discount of 30% on any product of your choice which goes up to 50-90% for a lot of products which means you are going to shop at very cheap. Sometimes, you can find some really good deals on your desired product which you just can't expect.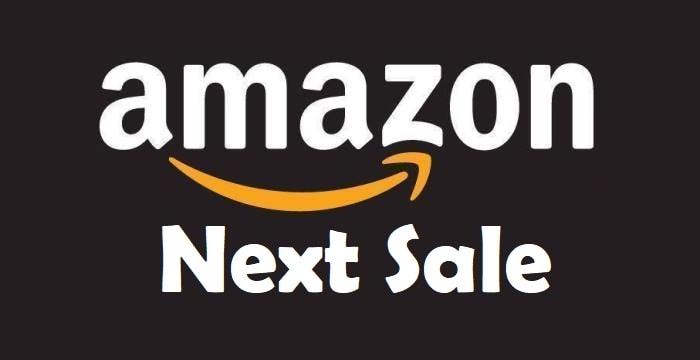 You will see a complete list of sale dates below so if you are just going to purchase something then you can look at the below table to figure out whether you should wait for a sale or not.
Here are direct links to some of the top deals at Amazon:
Amazon Upcoming Sale – March 2018
Amazon EMI Fest – No Cost EMI Offer On Mobiles, TVs & Appliances – 16-22nd March 2018
Click here to avail these offers
Purchase Mobiles & Home appliance on EMI without paying anything extra. Products starting just Rs.499/Month at Amazon with 10% additional cashback when paid through ICICI Bank Cards. In the offer, you can get up to Rs.1500 as cashback which will be credited to your card.
Amazon Gudi Padwa Sale & Ugadi Offers 2018 – 18th March 2018
Ugadi's celebrations begin with the arrival of Hindu New Year 2018. On this day, you will see some amazing discount offers on amazon as this day is considered as a good day to bring new things home. It is definitely going to be a much better day as if amazon brings a special sale for this day.
Gudi Padawa is also celebrated for the same reasons as Ugadi. It is the same festival named differently in different regions. You can get some good deals and can purchase needful thing at a reasonable price.
Redmi 5 Next Sale Date – 20th March
The successor to Redmi 4 named Redmi 5 is expected to launch on 14th March at 3 PM. It will be an upgrade to Xiaomi's 2nd Bestselling smartphone of 2017. It will be available for sale at amazon after the launch is completed.
Amazon Next Sale 2018 – Upcoming Sale Dates
| Amazon Next Sale | Start Date | End Date |
| --- | --- | --- |
| Amazon Deals Of The Day | 1st March | 31st March |
| Amazon Next Sale In March 2018 | 15th March | 18th March |
| Amazon Upcoming Sale In April 2018 | 10th April | 15th April |
| Amazon Great Indian Sale 2018 | 3rd Oct. | 5th Oct. |
| Amazon Prime Day Sale 2018 | 11th July | 15th July |
Amazon India Black Friday Sale 2018 – 23rd November
The Amazon Black Friday sale in India will take place on 23rd November. Black Friday is the biggest shopping festival in United States America which is popular worldwide including India. So on this Black Friday, you can catch some of the best offers on Amazon which let you grab some of the best discounts on products, especially in the electronics category.
Besides that, you will see some of the Black Friday special deals in Amazon India's deal of the day page which let you grab some of the best discounts on the product you want to buy. They will come with new deals every hour with very limited stock and huge demand so you will have to be prepared to shop for some of the best discount deals from Amazon India.
On Black Friday 2018, we will also keep you guys updated with best offers from various sites. We will manually pick these offers and will send them to our push notification subscribers so in case you haven't subscribed us then you should go and subscribe to us as it will help you in saving your hard earned money.
Amazon Christmas Sale 2018 – 25th December
One of the biggest festivals, Christmas will be celebrated on Amazon with some good deals sitewide. You can get some of the best offers on your favorite mobile phone from many brands such as Xaomi, Moto, Lenovo & Samsung. Moreover, there will be a few buyback and exchange offers as well which will help you in getting some good discount on your phone in return for your old mobile phone.
The discount you get for exchange and in the sale will be over the exciting Amazon discount on these products so you can just wait for this amazon upcoming sale to grab your favorite offers on those products which you want to purchase.
The Christmas sale on Amazon will be live on the exact day, 25th December but you will be also able to find some good deals from 20th December itself. We will also provide the best offers from the sale on a separate page so you can find the best options from the sale for you from handpicked deals chosen by us.
Click here for Amazon Christmas Sale 2018
Amazon Fashion Wardrobe Refresh Sale 2018 – 22-25th December
Year's biggest sale on fashion products at Amazon goes live from 22nd December. The Amazon upcoming sale is named as Wardrobe refresh sale and will be offering you the great discount on latest clothing trend. In the sale, you get to grab some of the Amazon discount offers of the year on fashion products from all the big brands. It includes Puma, Levi's, Adidas, BIBA, Bata, Fastrack along with a lot of other brands.
Click here to check all the best offers
More offers from Amazon Fashion Sale
Amazon Year End Sale 2017 – End Of Year Special Deals
It's time to say goodbye to the year 2017. It's almost about to end and there are just 3 weeks left and after that 2018 will start. Amazon has a great sale to make the last part of the year more joyful and memorable. Amazon End Of Year Sale is here on Amazon with big discounts of the year. You can shop for Laptops at 15% discount, or can purchase other products from Amazon at a good discount. Below you can find direct links to sale pages.

Amazon Pongal Sale 2018 – 14th January – Sankranti Special
Amazon India leaves no India festival empty. They do have some great offers to celebrate every festival so here's deals for Pongal 2018. Pongal is celebrated in the whole country in different manners. For some, it is known as Makar Sankranti while for some it is Lohri.
So on this big festival which is celebrated with a lot of joy and enjoyment there will be a special sale at Amazon which will help you in getting the best discount on products such as mobile phones, televisions, electronics, home furniture from the big count of Amazon exclusive products.
Amazon Great Indian Sale 2018 – 21-24th January 2018
Amazon's most awaited sale, named as amazon great Indian sale. In the sale, you can purchase most of the products at amazon at the best price of the year. Means, in this sale they come with sitewide discounts which allow users to shop for every single product at a sale price. In the sale, you can get enough discount on your new smartphone or can purchase laptops, electronics or clothing products.
More Details about Amazon Great Indian Sale 2018
Amazon Republic Day Sale 2018 – 26th January 2018
Celebrate one of the biggest days in Indian history. It's 26th January which is the Republic Day in India. This day has a lot of respect and importance in the life of every India. So, on Amazon, you get to enjoy this national festival with a discount on the products that you want to purchase.
In the sale, you will get a chance to grab deals with over 80% discount from a big range of products across all the categories. You get instant access to Amazon Deals that will come up with listed stock at a very low price. You get a chance to grab new deals every 30 minutes so you can complete your purchase at the best price.
The sale will be live on 26th January, however, it is expected that sale may begin on 22nd January itself. Stay updated with us on exact next sale date.
Amazon New Year Sale 2018 – 31st December -10th January
The last sale from Amazon for this year and the probably the biggest sale on occasion of new year. Welcome the new year 2018 with some of the best deals from Amazon. This is the first amazon upcoming sale for 2018 from Amazon and it will provide you the best offers of the years on the products which can help you to kickstart your new year.
We will update the best offers for the Amazon new year sale 2018 on this page. the sale will get live from 30th December 2017 and will run for almost 3-4 days till 2018. This sale can be also considered as the first Amazon sale of the new year 2018 so you can just wait for the biggest offers from Amazon India.
You can create your wishlist of the products which you want to purchase from Amazon and on sale day you can find these products on sale page to shop them at the best price. You can also bookmark this page and can visit us on the sale day to find a list of the best deals which you can sider as cheapest ever deals.
We will select some Steal deals and will promote them on this page along with a separate page. So, make sure you don't miss the Amazon sale and the best offers from the sale. We will choose only some selected deals which are available at a very good discount so you can save maximum on your order.
Click Here to Avail Best Offers for 2018
Amazon Valentine Day Sale 2018 – 14th February
Amazon Valentine special deals start with the valentine week. The discount will continue until 14th February 2018. So hurry up and get gifts for your loved ones at the best price ever. The sale is live exclusively for prime members so don't miss these special offers.
Click here to avail all offers
Amazon Women's Day Offers 2018 – 8th March
Amazon women's day special online shopping deals and offers start from 8th march. Get up to 90% disocunt on women's exclusive products such as clothing, beauty and fashion accessories. You can shop for the best price you can ever get in this sale so stay tuned with us.
Amazon Holi Sale 2018 – 1-3rd March 2018
Get top deals of the month as the celebration for one of the most celebrated Indian festival, Holi. In Amazon's holi special deals you should shop for your desired products as there are various deals available at a huge discount which is not normal.
More Deals from Amazon Holi Sale 2018
---
You can save a lot of money on electronics, mobiles, and clothing including thousands of products from all the categories during amazon great Indian sale 2018. We will add each and every amazon upcoming sale 2018 in above post so you can stay updated with the next sale dates easily.