Those days are gone when we used to have lifetime validity on our number. Now it is necessary to do a minimum recharge every month to keep SIM active. Till a few days back, our sim cards were showing the validity of up to 2037 and now, out of a sudden, we are asked to do minimum recharge to extend sim validity, every month. There is no lifetime validity recharges available anymore, and it's mandatory to recharge every month to make outgoing calls.
If we don't maintain the minimum balance (For a long time), we will lose our number. It applies to all operators, Airtel, Vi (Vodafone & Idea), BSNL & Jio. In this post, we will see if we can get a free validity extension without any recharge & what other options we have.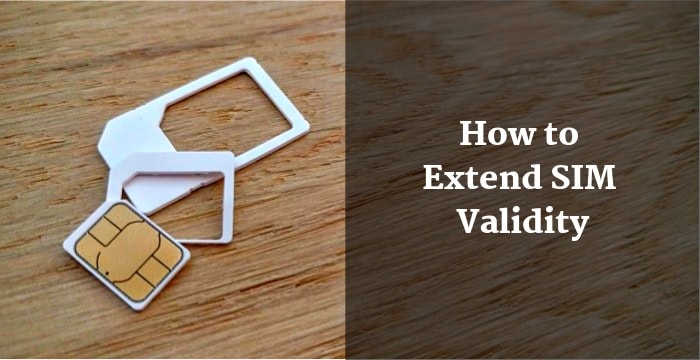 What You Have To Do To Keep SIM Active:
Since the introduction of this usage policy, the user needs to do a minimum recharge of Rs.49 every month, giving them 28-day outgoing call validity and some talk time balance (₹39-49) with limited validity. And if they don't do the minimum recharge, their outgoing will be immediately barred.
Moreover, if the customer still doesn't recharge with a minimum pack, then your incoming call will also be barred after 15 days. And after few days, 60 days usually, the number will be deactivated. So the thing is that you need to keep doing recharge if you want to keep your sim card active.
TRAI Rules On SIM Deactivation:
After getting lots of complaints from users, TRAI directed mobile operators. TRAI has said that companies can't disconnect the number until the user has sufficient balance in the account.
This is what these guidelines mean:
If your sim has a balance equal to the minimum recharge amount (Usually Rs.49), your number won't be disconnected. You will continue to receive calls and SMS without any further recharge. But, the sim card operator will deduct a balance equal to the minimum monthly recharge pack from your main balance.

You can also make calls from your existing balance and it's valid as long as your sim is active. But, the minimum recharge plan comes with limited validity talk-time. It will lapse once the plan's validity is over.

The minimum recharge amount is around Rs.39-49 and can be activated from the existing prepaid balance but it will only give you the validity of 28 days, with limited validity talk time benefits.

Incoming calls will be active for another 15 days once your outgoing validity plan has expired.

If you don't recharge after these 15 days and don't have sufficient balance, incoming calls will also stop, and the number can be disconnected. SIM Card operators follow a 60 Days grace period. Jio has a 90 days grace period in place. BSNL has a much longer 180 days Grace period.
What If Your SIM Card Has Enough Balance?
Now if you have lots of balance like Rs.500 in your prepaid account and you don't do any calls using that number for a long time, the service provider will deduct an amount equal to the minimum recharge pack every 30 days.
The minimum pack starts from Rs.49 which means your sim will be active for the next 10 months without any recharge. Your service provider will keep deducting the minimum balance from your account & for example, an Rs.500 balance will be enough for up to 10 months.
How to Extend SIM Validity Without Monthly Recharge:
Now many users are asking if there is any way to extend sim validity without doing recharge every month. Here are possible ways to do so.
1. Send a PORT Message and Ask Customer Executive For Validity Extention
Some users have reported that when they sent a message to port out and got a call from the service provider, they asked to extend sim validity. Some of the users said that it worked for them and their validity was extended for a few days without doing any recharge. You can so try this out to see if you are lucky enough to get a validity extension without any recharge.
You simply have to send an SMS to 1900 in the following format: PORT<space>NUMBER
Let me know in the comments below if this trick works for you.
2. Port Out to BSNL or Jio For A Longer Validity
As a new customer, you get a lot of benefits. If you don't want to recharge with a minimum amount every month then you should think to port out to any other operator.
BSNL & Jio can be the best option for such users as there's no such condition for users. You still have to do recharges but not every month.
Jio SIM validity without a recharge is for 90 days officially but it works for a longer time than that. After that, you can do the minimum recharge to keep the sim active. BSNL and Jio follow a long grace period than Airtel and Vi. You can keep getting incoming calls and SMS in your Jio sim without recharge.
Also, BSNL has a lot of Validity plans to start with. Initially, when you get your new sim card you don't have to do recharge with anything extra as it already comes with 6-12 month validity for new users.
Once 6 months are over you can do a validity recharge on your BSNL Number. You can do a validity recharge from your prepaid balance as well.
BSNL has very cheap plans to extend sim validity. For example, Rs.397 validity pack gives you 12-month validity, 2 GB/Day data and unlimited calls for 60 Days. So considering this BSNL seems to be the best choice for most of the users as Jio is 4G only network so Jio is not gonna work for those users whose phone doesn't support 4G.
If you are a smartphone user then you can keep one primary sim of any operator which you are going to recharge every month. And you can use BSNL or Jio as a secondary sim card for emergency purposes.
Keep in note that, some smartphones don't support dual 4G standby. So make sure if you are going to get a Jio sim then you have to use it as a primary sim (for internet access) or otherwise it won't get any signals.
You can get any sim if you are sure that your phone supports dual 4G standby.
3. Activate Validity Extension Pack From Your Prepaid Balance
You can also activate the validity extension pack from your existing prepaid balance. Current plans start from 49 INR and give you the validity of 28 days. You can keep activating these packs from your balance and can continue to use your SIM.
You can do this for as long as you have enough balance in your prepaid account balance. But when you have no balance in your account, you will have to do recharges.
If you don't activate any validity pack despite having sufficient balance, your service provider can deduct the required balance and activate a minimum pack on your behalf.
This way you will still keep paying monthly but the frequency to do recharge manually can be decreased.
Also Check: Stop Data Usage From Main Balance In Airtel, Vi, BSNL & Jio »
FAQs On Jio, Airtel, Vi & BSNL SIM Validity:
What is Jio SIM Validity Without Recharge?
You can keep Jio SIM active for 90 days without a recharge. Also, make sure that you get a few incoming calls on this number, every once in a while. Your sim card will be deactivated if you don't do recharge even after 90 days.
What is the minimum validity recharge in Jio?
Jio's minimum monthly pack starts at ₹129. You can do unlimited calls for 28 days with this pack. You also get 2GB of data in this pack which is valid for 28 days. JioPhone users can get a similar plan for ₹75 only.
What is Grace Period In Airtel, Jio, Vi & BSNL SIM?
Vi & Airtel SIM grace period is 60 days. Jio follows a 90 days grace period. BSNL has 7 days Grace 1 period with all services active & another 6 months Grace 2 period before your sim card is deactivated. You can contact customer care on 198 for more clarity.
Which is the Best SIM For Incoming Calls & SMS Only?
Jio is the best option if you want a SIM for incoming calls and SMS only. It works for 90 days without recharge & does not stop incoming calls and SMS services. But for outgoing service, you need to recharge with a minimum of ₹129 every 28 days.
So these were the possible options to extend sim validity without recharge. Do let me know if you have a better option or suggestion to keep the sim active for the maximum time while paying the minimum amount possible.