Unusual balance deduction is the biggest problem for all of us, as it makes our mobile bill heavier in our pocket. This is a very common problem for us and there are various reasons for the same. An exactly same problem occurs when we are surfing the internet and suddenly our Internet pack gets over but we forgets to turn off data connection in our phone or pc and this little mistake cost us a lot from our mobile balance. Mostly it executes all the main balance we have and if we have balance in hundreds our thousands then it becomes a big pain.
However, as per TRAI regulations, there is a way to stop internet usage once you have crossed your data usage limits or your plan is expired. This facility will not allow you to access the internet from your main balance if you don't have any data pack. If you follow the below process then you don't have to complain every day for that balance deduction.
But, most of us don't know how we can do it and in lack of information we end up paying huge from the main balance for internet usage and even if we try to reach customer care, we can't get our money back as we have received benefits of it and it is non-refundable. Sadly, the customer care executive plays smartly with us and ends the call without letting us know that how we can be safe from this in future.
However, I agree that we don't ask about it as we think that there is no such way. I think it is the responsibility of customer care to make the customer aware of this but mostly all they do is that they give you a suggestion of keeping check of your data usage and pack expiry so you don't have to face it in future. But if we think, checking data usage every minute is not a good and easy thing to do if we look at it practically. So today we will tell you how you can do it automatically. The process which we have mentioned below is the same for all operators and works flawlessly and comes in very handy for us.
How To Stop Data Usage From Main Balance For Airtel, Vi, BSNL & Jio
Step 1. Open your SMS Messenger App on your phone
Step 2. Now click on the new message option
Step 3. In the message box type STOP and,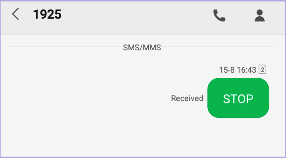 Step 4. Send it to 1925 with the sim you use for internet access.
Step 5. The service will be activated shortly and you will also receive a confirmation message for the same.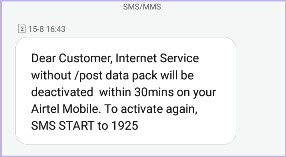 That's all you have to do. Now if you don't have a data pack and turned on data services mistakenly then there is no need to panic as the internet service won't work & you will not be charged for it. As I did you should also send a message from both of your sim cards as it will make both of them safe from sudden balance deduction.
Let me make one thing clear the process I mentioned works well for all operators. No matter which operator's sim card you use, it's a prepaid connection or postpaid, it will work for you. This is because this service is not started by an operator from Vi, Airtel, BSNL or any other this is a service introduced by TRAI which is the regulatory authority of all mobile operators. TRAI should make it activated for all by default and those who like to pay from the main balance or have some need for it should be able to opt-out if they want.
How To Stop This Service? (And Start Using Internet From Main Balance)
If you have activated this service and want to disable it then you can follow the below process for the same. But I don't recommend it for you and it's not useful for most of us, still, I have provided the process for those who need this.
Open SMS Messaging App on your phone
Type START in the message box
Send it to 1925 from the sim on which you want to get it activated
Your service will be activated within 30 minutes and you will be informed through SMS.
Once you activate this service there will be no balance deduction in future for data usage. Also, the Internet will stop working once you have finished your data pack. But if you deactivate this service then you can continue internet access using the main balance and you will be charged heavily by your mobile service operator.